Everything you should know about Google Drive desktop for Mac
What do you know about Google Drive for desktop? Is it true that Google stopped support for Google Drive desktop app? What is the best Google Drive replacement? What are the main features of Google Drive? In the article below you will find answers to all the interesting questions concerning the topic above. So, let's start.
Quick Summary
Features of Google Drive desktop app for Mac OS
Google Drive for desktop is free. It offers 15 GB of free space to any user. However, for a certain fee, you can increase it up to 30 TB.


Collaboration with files and folders. You can grant access to your files to the owner of another account. Or set certain limits.


Ubiquity. It has already become difficult to find someone who does not have a Google account or Google Drive app for desktop. In the extreme case, to register an account takes about 1 minute.


Built-in tools. Tools for collaboration with office documents are already built-into the cloud: Documents (Google Docs), Tables (Google Sheets), Presentations (Google Slides). In addition, you can find file import from Microsoft Office and reverse export. Even more, in Google Drive, there are a number of additional tools that can solve a variety of tasks: from drawing mental maps to video editing.


Accessibility. Google Drive on desktop can be run on all major operating systems. Any file stored in the cloud is available at any desired moment from any place.


Documents created in Google Drive, practically do not take up disk space.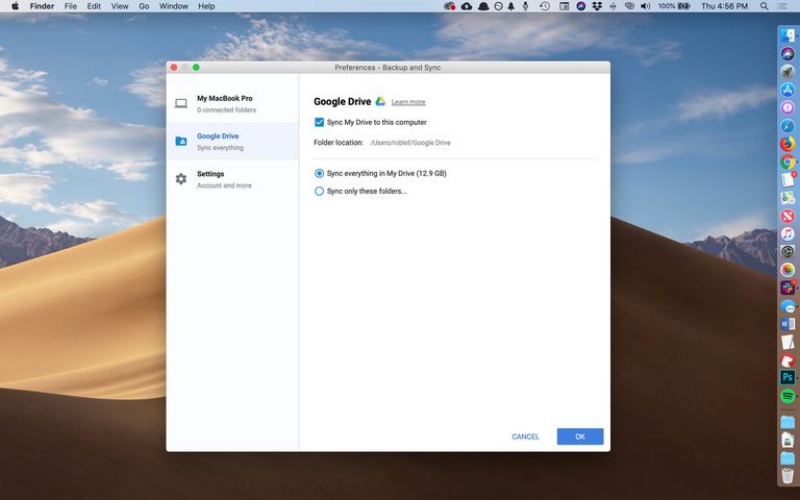 Google Inc. introduced the Google Drive desktop application many years ago. Despite its huge popularity, the company decided not to scatter efforts and stop supporting the application in December 2017. However, it is still possible to access Google Drive from desktop using a browser as well as all your files further, using mobile applications. Google representatives said that instead of closing Google Drive desktop client, users are offered an alternative - Google Backup and Sync program that replaces both Google Drive and Google Photos Uploader. The principle of its operation is similar to Google Drive, so there should be no problems with the new user.
What does Google Backup and Sync do
The functionality of the program is as follows:
Create backup copies of originals or high-quality images from a folder with images.


Create backup copies of files located on the Google Drive folder on desktop or in the Documents folder (or data located in any other folders that you specify in the application).



Sync all selected files in Google Drive from any other computer you select.
How to set up Google Drive replacement - Google Backup and Sync
After installing the program, you need to go through the authorization procedure in your Google account, and then set up backups and synchronization.


Uncheck the checkboxes if you do not want to synchronize all the files located on the desktop ("On Computer") or in the "Documents" folder.


Make sure there is a check mark next to the "Upload Images and Videos to Google Photos" option. This action confirms the intention to copy all new media files to a special folder in Google Drive.


In the next configuration step (Google Drive), you must decide which folders in Google Drive will be automatically synchronized with your local files on your Google Drive desktop folder.


After you click the Start button, the data synchronization process begins. By clicking on the application icon with the cloud in the menu bar on Mac, you can see the progress of the process. There you can get quick access to the opening of Google Photos, Google Drive and other components of the service.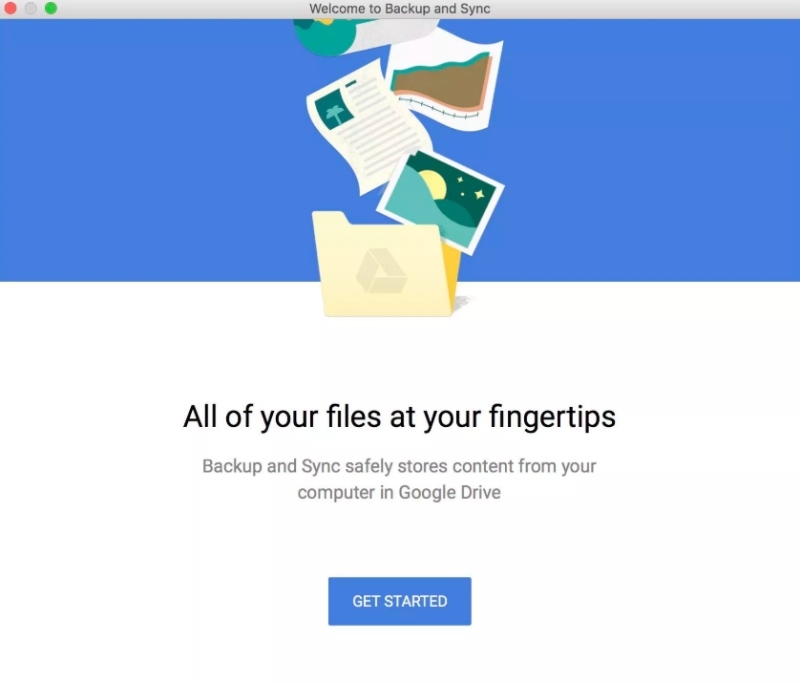 5 Apps to access Google Drive on desktop
Insync is a cross-platform Google Drive desktop client that will allow you to synchronize your Google Drive data to your computer. The app provides instant synchronization between files on the computer and stored on the Google Drive server, reporting errors, transfer files from the applet, editing documents, the function of sharing the files, etc. Insync offers a 15-day trial period and sells for $29.99 USD.
ExpanDrive is one more Google Drive desktop app that syncs all the files. However, what is worth mentioning is the fact that ExpanDrive mounts your cloud storage as a local vault allowing you to access all your files directly through Finder. The app is currently available on Windows and Mac and offers 7-day trial.
Odrive is an online service, namely cloud manager for quick access to all your files located in different cloud storages. What distinguishes it from similar apps, is the ability to use not only the browser as a tool for managing files but also the installed interaction client directly through Finder. Another advantage of this Google Drive desktop Mac solution is the possibility to select by file which data should be synchronized and which data should be displayed as labels.
WebDrive an application that combines files from different cloud storages and servers. With the help of WebDrive, you are granted the fast and convenient access to files that are stored remotely, it is also a tool that will allow you to use them as if they are located directly on the device itself. In addition, the app uses encryption in order to provide better protection to your online data. Try this client for Google Drive for desktop and check what else it can offer.
CloudMounter an efficient Google Drive desktop client for Mac. In addition, the app supports a great number of other popular cloud services, including Backblaze B2, Amazon S3, and compatible storages, etc as well as remote servers. Unlike the mentioned above apps that synchronize files and after that fill the hard disk space with tones of information, CloudMounter works without any synchronization, directly from the cloud, is integrated with Finder, and provides encryption of the data to strengthen the level of your cloud data protection.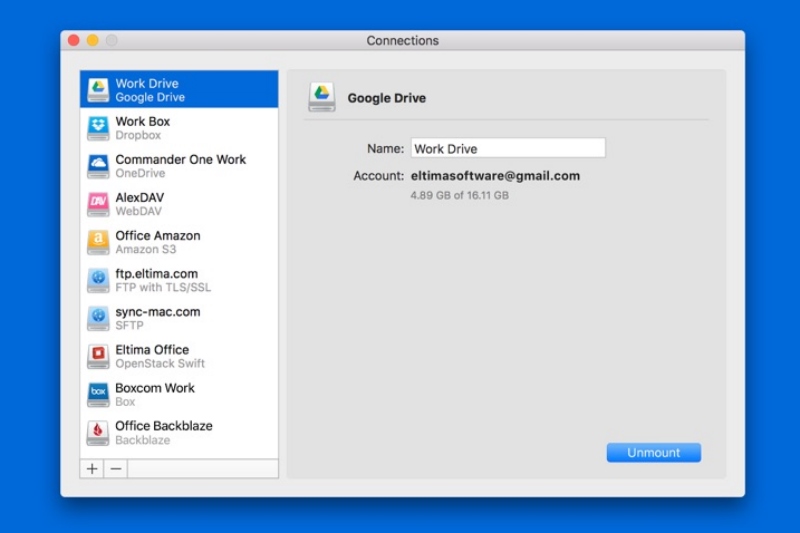 We hope that this article was rather informative. Find the best way to work with your Google Drive data and choose your Google Drive replacement app.
CloudMounter
System
32.15MB
Requirements: OS X 10.10+ ,
32.15MB
free space
Version
3.4.546
(
7th Sep, 2018
)
Release notes