NEW
Yoo-hoo! CloudMounter runs natively on Mac computers with Apple silicon: M1 and M2 series!

Additional Protection of Web Protocols and Cloud Services
A solid protection of your cloud data can be guaranteed while using CloudMounter.
Encrypting cloud computing services
allows you not to worry that your confidential data will be revealed to any third parties. Have secure access to Google Drive, OneDrive, Dropbox, Amazon S3 as well as the files on FTP, SFTP, and WebDAV servers.

k9m*ˆW·ê∞G
Research.xls
Dropbox

ñfiÚ7B∆U%í"
Screenshots
Amazon S3

ñfiÚ7B∆U%í"
Blur–Jets.mp3
FTP/SFTP
Encrypt data
Top Security Provided by CloudMounter
On top of enabling Box users to easily manage cloud data, CloudMounter is also adding an extra layer of security. There's no such thing as too much
cloud storage security
when talking about online data so our app uses sophisticated algorithms to protect your information. Everything is encrypted so even in the slim eventuality your data falls into the wrong hands, it's unreadable. CloudMounter takes security in cloud computing to the next level to provide excellent service to all users!

Alternative client to Box for Mac
CloudMounter makes it possible to access your data stored on the Box cloud storage with ease. Thanks to seamless integration onto Finder, the app lets your cloud storage appear in the native macOS file system as a local drive. When dealing with the content online, this Mac desktop Box client doesn't force users to copy files on your computer thus saving space for more important things.
Multiple connections
With the help of this Box Mac client, you can link as many Box cloud accounts as it is required. Whether you have two or twenty-two, they all can be seamlessly connected to your Mac at the same time allowing you to have all your cloud data at your fingertips.
Transfer files between clouds and servers
Make Box file sharing more convenient with this Box Mac app solution - CloudMounter. Move files back and forth to and from your computer not only to the mentioned above service but also to any other supported cloud storage or remote server without saving the content to your Mac.
Fully integrated with Finder
Any cloud storage can be seamlessly accessed through Finder. Map Box as network drive and enjoy comfortable cloud file management with no synchronization of the content. Make all your cloud data within reach.
Reasons for choosing CloudMounter
CloudMounter is a great utility that makes life a lot easier for many Mac owners. Besides being an excellent Box client for Mac, the app supports a wide list of cloud services as well as web protocols. What's more, many enterprise cloud users will have a huge advantage while using CloudMounter as it doesn't clutter up their computers with a huge amount of cloud content.
High-security standards
Manage your online account with confidence thanks to CloudMounter. This Box Mac client neither collects your login credentials nor transfers them to any third parties. As the main motto of the app is the security of our clients. All passwords are thoroughly kept in macOS Keychain and are sent via encrypted channels.
Finder Integration
Thanks to CloudMounter you can work with online files the same way as with your local ones. The app was developed with thoughts of providing the users the most familiar way of online file management, that is why CloudMounter can boast about the most smooth integration with Finder app.
More improvements to come
New connections, improved standards, enhanced features, and way more. We never stop on what we have and believe that everything can have improvements. We want CloudMounter to be in the leading positions of cloud management so users can fully benefit from it. Currently, we are working on the integration of iCloud.
How to map Box as network drive on Mac
CloudMounter allows you to configure a huge number of different services and use them as needed. In order to connect Box cloud the following steps are required:
First, you need to download the app and then transfer it to the Applications folder on your Mac.
After that open the app and you will see a window for connecting various services.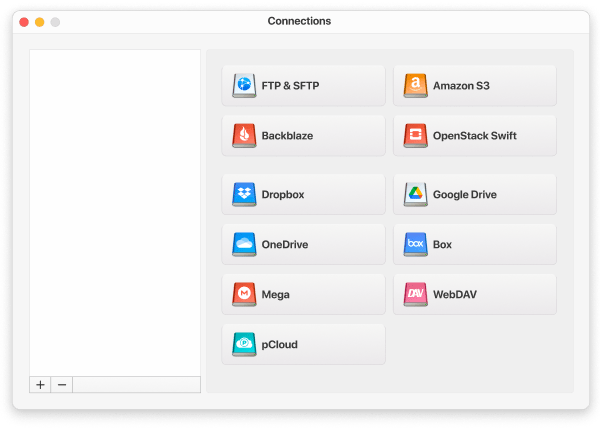 Find the Box icon and click it.
You will be asked to provide your Box credentials in order to map Box as network drive on your computer.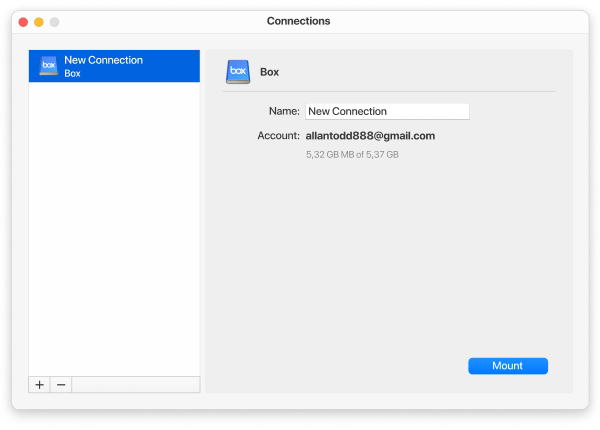 Once everything is done your account will appear in the main window of the app. You need to click the Mount button in order to access your cloud files.
As you can see, everything is extremely simple, and the connected drive can be used as a local drive allowing you to work with cloud files as with regular ones.
Frequently Asked Questions
Connecting to every online service
While working with CloudMounter you can find support for the most popular services. Be able to connect not only to Box cloud storage but also to remote servers and way more.
CloudMounter for Windows
You can now mount your multiple cloud storages as local disks on your PC too.