NEW
Yoo-hoo! CloudMounter runs natively on Mac computers with Apple silicon: M1 and M2 series!

Additional protection of online data
Encrypt your files not only on FTP, SFTP, FTPS, WebDAV servers but also on popular cloud computing services like Google Drive, Dropbox, OneDrive, Amazon S3, Box, etc. make sure that your files are thoroughly protected with this Mac FTP client.

k9m*ˆW·ê∞G
Research.xls
Dropbox

ñfiÚ7B∆U%í"
Screenshots
Amazon S3

ñfiÚ7B∆U%í"
Blur–Jets.mp3
FTP/SFTP
Encrypt data

FTP client for Mac
Users of this Mac FTP client will surely appreciate the following: the system utility can be easily integrated into the Finder, and it can mount not only FTP but also FTP with Implicit SSL, FTP with TLS/SSL or SFTP servers anв as well as cloud storage accounts on the Mac as if they were additional hard drives. Access all remote servers from Finder and work with online files and folders as if they were local.
Protocol support
CloudMounter makes it possible to transfer files not only via FTP but also via SFTP and FTPS. Add more security while transferring your data.
As many FTP servers as needed
This Mac OS FTP client makes it possible to mount numerous FTP servers as it is required to have effective file transfer and facilitate your file management.
Integration into the native macOS file system
Effortless work with your online files is guaranteed thanks to harmonious integration into Finder. CloudMounter makes it possible to mount your online connections as local drives.
Manage Your FTP Server Data at High Speed
If you're looking for a fast FTP client, your search is already over. CloudMounter delivers the best transfer speeds thanks to the ability to mount the servers as local drives on the computer. Of course, you'll still be dependant on the internet speed for the best results. However, it's great not to have to use outdated program interfaces and old protocols to move files from your computer to an FTP server or vice-versa.

And since we're talking about speed, you'll be happy to learn that our software does not come with any sort of bandwidth restrictions. So, no matter the file size, you will always get the best transfer speed possible when using it! Rely on the best server manager and mounter to keep all your data under control.
Why users are fond of CloudMounter
CloudMounter has recommended itself as a safe and reliable app that does its best to keep your personal information secure. This FTP app for Mac uses high encryption standards, offers wide support for web protocols and cloud services, integrates into Finder for more convenient file management, offers great technical support and regular updates.
Manage passwords with Keychain
Save all your passwords from any connections in macOS Keychain. Be sure that CloudMounter won't pass any of your login information to any third-party as our client's privacy is important to us. All your credentials are sent through encrypted channels only.
Successful integration with Finder
One of the key advantages of this Mac FTP client is a harmonious integration into a native macOS file system. CloudMounter offers the best connection between your Mac and any remote server/cloud computing service.
Long list of improvements
Our development team is working hard on adding more functionality, new connections, improving already existing connections, implementing new standards, handy features to guarantee seamless work with files.
How to Use CloudMounter to Mount an FTP Drive for Mac
Using CloudMounter to mount an FTP server as a drive on a Mac is completely straightforward, and will allow users to simultaneously access multiple FTP servers at the same time if so desired. You can securely store login details like usernames and passwords in the macOS Keychain if you want to speed up access; otherwise, you'll need to manually input the details every time you wish to log on to a server. For users who want to juggle files between multiple different cloud storage providers at once (e.g. Google Drive, Dropbox, OneDrive, etc.) CloudMounter lets you switch between different mounted drives through Finder so that you can stay in control of all your storage resources through a single interface. Just follow these steps to get the app up and running:
Download CloudMounter to your Mac device, then click on the app icon.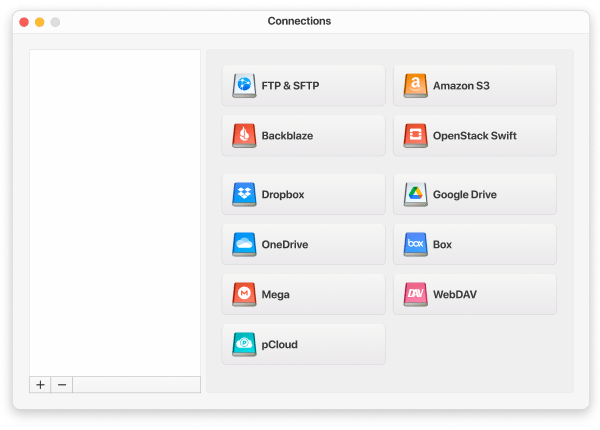 Enter the following details:
Server name
Connection type (FTP, FTP with TLS/SSL, FTP with Implicit SSL, SFTP)
Server address
Port value
Login name and password
Select the connection mode (active or passive).
You can store the login information in macOS Keychain and it will be used every time you establish a connection. If you leave the field blank, you will be asked to enter the password each time you connect to the server.
Frequently Asked Questions
List of supported services
Besides being a great FTP and
SFTP client for Mac
, CloudMounter also seamlessly works with all major cloud computing services and remote servers.
CloudMounter for Windows
You can now mount your multiple cloud storages as local disks on your PC too.