NEW
Yoo-hoo! CloudMounter runs natively on Mac computers with Apple silicon: M1 and M2 series!

Extra protection of your online connections
Encrypt your files within each cloud computing service and a remote server. Have a safe access not only to Backblaze cloud storage but also the other popular ones, including Google Drive, OneDrive, Dropbox, Amazon S3, and on FTP/SFTP/WebDAV servers.

k9m*ˆW·ê∞G
Research.xls
Dropbox

ñfiÚ7B∆U%í"
Screenshots
Amazon S3

ñfiÚ7B∆U%í"
Blur–Jets.mp3
FTP/SFTP
Encrypt data

Backblaze B2 client for Mac
CloudMounter allows mounting Backblaze cloud storage to your Mac as a regular drive and easily drag and drop the files as you would do with the files stored locally. The great plus of the app is that it doesn't copy cloud files on your HDD allowing you to handle data directly in the cloud account.
Multiple accounts
Don't be afraid to mount as many Backblaze cloud storage accounts as you have cause thanks to CloudMounter everything is possible. The app serves as one spot for lots of accounts of the same cloud service making it possible to move files among them all with ease.
Move files between cloud
Move, copy, download, upload files not only to and from Backblaze storage accounts but also among different cloud storage and remote servers. CloudMounter allows a convenient file transfer with no need of installing several apps at once and synchronizing content thus saving space on your computer.
Access Backblaze storage accounts from Finder
Convenient work with multiple accounts directly from Finder. Mount cloud computing services as network drives. Thanks to CloudMounter all your cloud files are at your fingertips.
Why users go for CloudMounter
CloudMounter is a top choice among a lot of users for a reason. The app has an intuitive interface, supports a wide range of cloud services and protocols, ensures efficient work with online files (upload, download, delete, edit). Besides being a great Backblaze client alternative, CloudMounter is also a high-quality app that can encrypt your files on all popular online connections.
High level of security
Privacy is a key point when working with cloud computing services. CloudMounter respects your personal space the same way as you do. The app uses your login information only to access the corresponding connections. Besides that, your login credentials are securely protected in macOS Keychain.
Smooth Integration into Finder
Comfortable and efficient work thanks to a smooth integration into the macOS file system. CloudMounter makes it possible for online connections to be displayed as regular drives in Finder that dramatically increase the work with cloud files.
Constant improvements
We never stop looking for new ideas and improvements taking into consideration your every comment and giving ear to your wishes. The goal of our development team is a top-notch product to facilitate your cloud file management. That is why we always improve CloudMounter to meet this parameter.
How to mount Backblaze B2 cloud storage on Mac
As Backblaze B2 doesn't have any client software, you can use CloudMounter for easy and hassle-free access to your cloud files. With the help of CloudMounter, you can link Backblaze storage to your computer as a regular drive and have a convenient workflow. Follows the guide below and enjoy the simplicity:
Download and install the app on your Mac.
Run CloudMounter and select the Backblaze drive icon from the list.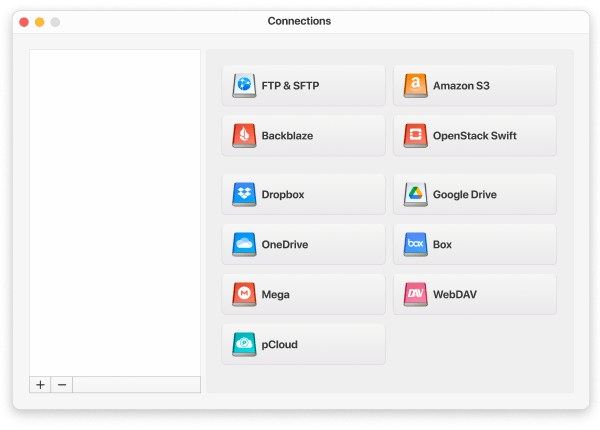 Proceed with filling in the required information: account ID, application key, bucket name, the root directory.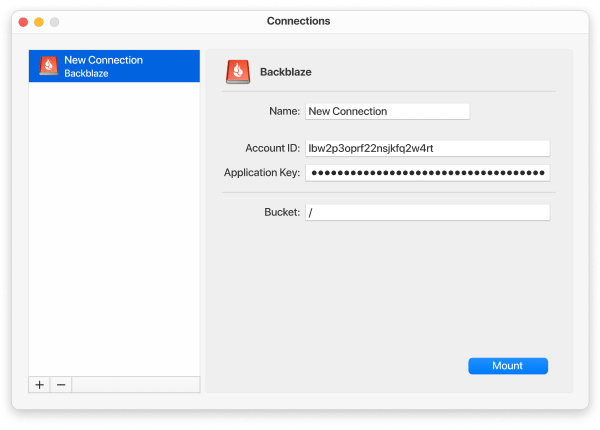 That's it. Now you can access your online files directly through Finder with no need to use the web interface or API. Enjoy your online file management.
Frequently Asked Questions
Backblaze cloud service allows you to store your data in the cloud. It is regular cloud storage that can be accessed from any computer and operating system. B2 does not include any client software for interacting with the repository. The storage is accessible via the web interface, API.
The data stored in the B2 product is encrypted. Backblaze is also one of the few cloud storage providers that offer a private encryption key known only to the account owner.
To mount Backblaze as network drive you need to download and install CloudMounter. The app allows convenient online file management with no need to sync or save online content to your Mac.
Different types of connections
CloudMounter supports the most popular online connections starting from popular cloud services and ending with remote servers. Find any connection you need and not only Backblaze cloud storage.