NEW
Yoo-hoo! CloudMounter runs natively on Mac computers with Apple silicon: M1 and M2 series!

Protect Cloud Storages and Web Servers
Increase the security of your online accounts and remote servers. Encrypt files stored in Google Drive, Dropbox, OneDrive, Amazon S3, FTP/SFTP/WebDAV servers. Have all your files thoroughly protected.

k9m*ˆW·ê∞G
Research.xls
Dropbox

ñfiÚ7B∆U%í"
Screenshots
Amazon S3

ñfiÚ7B∆U%í"
Blur–Jets.mp3
FTP/SFTP
Encrypt data
Map WebDAV to your computer
Сonnect to a remote WebDAV server via CloudMounter to gain total control over your online files. Map WebDAV as a hard drive and edit, copy, move, browse, delete files, etc. with ease.
Numerous connections
CloudMounter allows mounting multiple WebDAV accounts at the same time to your computer and facilitates your workflow with no need to save data on your computer.
Access files from different servers
Handle files stored on different servers from one spot. Move them around without copying them to your computer. Save precious space for more important data.
Finder Integration
Establish WebDAV connection via CloudMounter and work with your online files as with the local ones. Thanks to seamless integration into the native macOS file manager dealing with online files is super easy and fast.
Why users decide on CloudMounter
CloudMounter is not only a handy WebDAV client Mac solution but also perfectly works with a great variety of other cloud storage services and protocols. In addition, the app reduces the risks of keeping sensitive data online to the minimum thanks to the encryption feature.
macOS Keychain support
Your personal information is securely protected in our WebDAV client. When logging in to your online accounts your passwords are sent to the servers through encrypted channels as they are stored in macOS Keychain.
Finder Integration support
Mount your various cloud accounts in Finder's sidebar where they can be accessed and worked with as if they are your local drives. Have more convenient work with your online files.
More Cloud Storage Services
A better quality product is our main goal that is why we never stop improving CloudMounter adding more cloud storage services to the list and expanding CloudMounter's features. More cloud services will be added in the near future.
How to mount WebDAV as a local drive
Seamless work with the files stored on WebDAV server is possible via CloudMounter. To mount a WebDAV server as a drive follow the steps below:
Download and launch CloudMounter on your computer.
Add a new WebDAV connection by clicking the corresponding icon.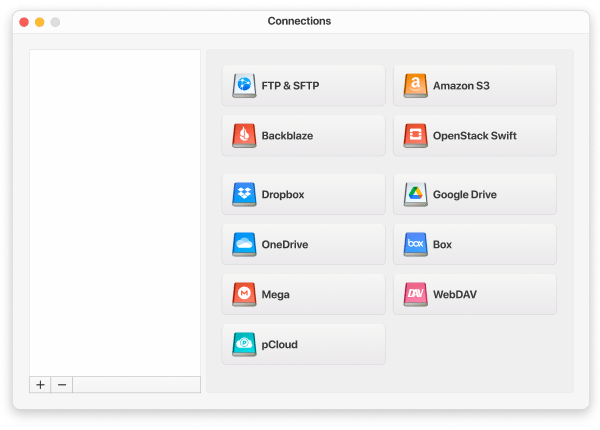 In the invoked window choose the connection name, paste a WebDAV URL, indicate your account username and password.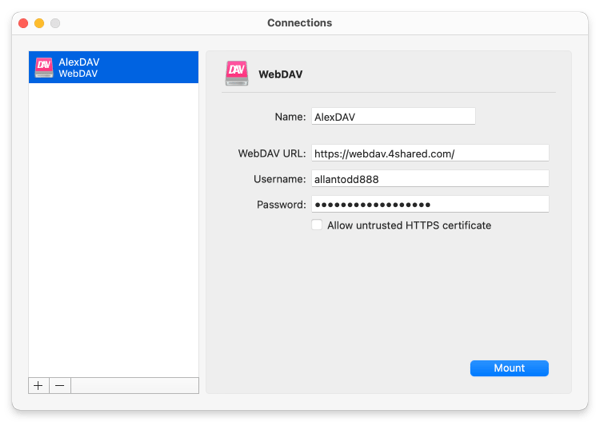 Frequently Asked Questions
All supported services
CloudMounter allows you not only to seamlessly mount WebDAV but also supports all popular cloud services and other remote servers.
CloudMounter for Windows
You can now mount your multiple cloud storages as local disks on your PC too.