Google Drive Mac client
Have convenient access to your Google Drive accounts with the help of CloudMounter, a versatile manager of your cloud data. Manage your online files directly from Finder: delete, upload, copy, edit, create new, or download files easily with a centralized Google Drive Mac client.
Multiple connections
Have all your Google Drive accounts connected to your Mac at the same time.
Shift files among cloud accounts
Easily transfer your files among different cloud accounts with no need of copying them to your computer.
Shared With Me
Seamlessly handle files/folders that are shared with you via a link or the ones that are shared on GDrive.
Protect Cloud Services and Web Servers
Store files in all your cloud services under total control. Encrypt all files before
uploading to Google Drive
, Dropbox, OneDrive, Amazon S3, FTP/SFTP/WebDAV servers.

k9m*ˆW·ê∞G
Research.xls
Dropbox

ñfiÚ7B∆U%í"
Screenshots
Amazon S3

ñfiÚ7B∆U%í"
Blur–Jets.mp3
FTP/SFTP
Encrypt data
Why CloudMounter
Besides being a versatile product, CloudMounter supports a great number of cloud storages and protocols and has harmonious integration into the Finder app making online file management in the most convenient way.
Keychain support
Your personal info is not used, stored, or sent to any third parties via CloudMounter, as your privacy is of great concern to us. All your passwords are saved in macOS Keychain and are sent via encrypted channels to certain servers.
Integration into Finder
Have a great connection between your Mac and various servers thanks to seamless integration with native macOS Finder. CloudMounter permits you to mount Google Drive accounts and work with them without any effort.
More Cloud services connections
We are constantly working on adding new connections and more useful features to CloudMounter as we want to fully satisfy your needs. Full integrations with iCloud will be added in the nearest feature.
Connect to Google Team Drive
If you are a member of a team working with data kept on a Google Team Drive, there is no need to worry. Our Google Drive Mac client allows you to connect to Team Drive in the same manner as to a regular Google account and have convenient file management without saving info to your computer.
Google Drive as a shared drive
With the help of CloudMounter, you can mount Google Drive on Mac and Windows as a virtual drive, reach, and deal with your Google Drive accounts directly from Finder or Windows Explorer with no need to sync files. CloudMounter is a perfect Google Drive client Mac solution that provides an opportunity to access what you need exactly when you need no matter the operating system at the same time saving precious space on your machine.
How to mount Google Drive on Mac/Windows via CloudMounter
Make your Google Drive accessible from Finder or Windows, use the following steps to mount Google Drive as network drive:
Download CloudMounter on your computer to start working with your cloud data.
Open the app and choose the Google Drive icon in the connection dialog window.
Enter your Google Drive account credentials.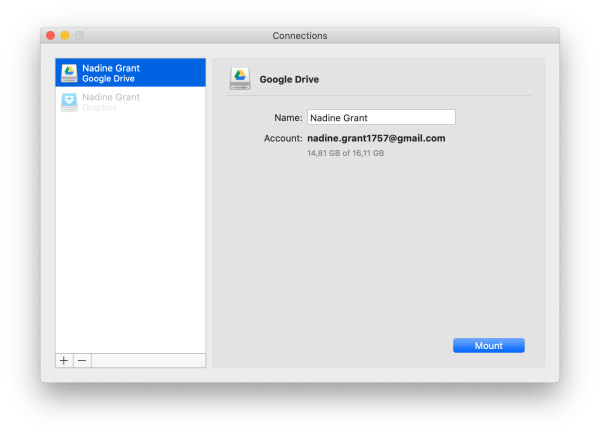 After that, your Google Drive will be displayed in Finder/ Windows Explorer together with your computer's hard drive.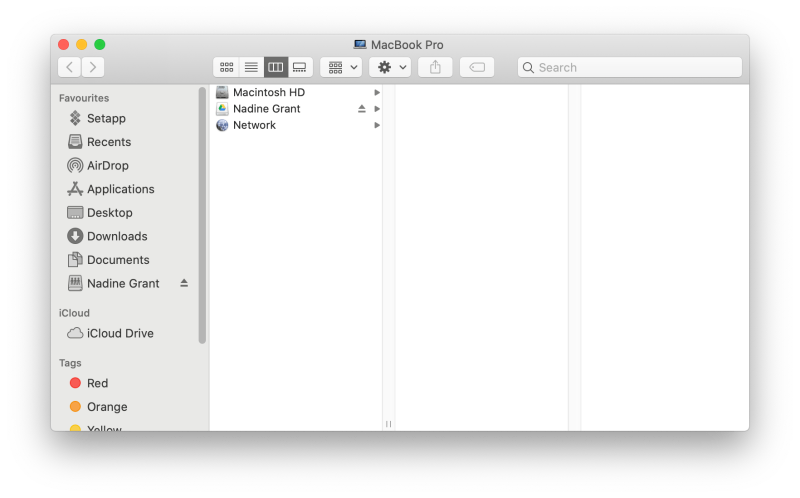 To be able to see and work with all the files stored in the cloud, navigate on Google Drive in Finder/Windows Explorer and click it.
As you see, everything is extremely simple. Even more, CloudMounter makes it possible to add multiple Google Drive accounts and have seamless access to them from Finder or Windows Explorer at the same time.
Frequently Asked Questions
All supported services
The software provides an opportunity to mount Google Drive as network drive along with the other cloud services and remote servers.
CloudMounter Languages
Czech

German

English

French

Italian

Japanese

Korean

Russian

Spanish

Chinese