NEW
Yoo-hoo! CloudMounter runs natively on Mac computers with Apple silicon: M1 and M2 series!

Encrypt Web Protocols and Cloud Computing Services
CloudMounter uses a proven and standard encryption protocol AES-256 to make sure that your online files will not be scanned by any third parties and thoroughly protected from unauthorized users. Encrypt files not only on your OpenStack storage but also on other popular cloud software services and remote servers.

k9m*ˆW·ê∞G
Research.xls
Dropbox

ñfiÚ7B∆U%í"
Screenshots
Amazon S3

ñfiÚ7B∆U%í"
Blur–Jets.mp3
FTP/SFTP
Encrypt data
OpenStack Swift client for Mac
It is a known fact that OpenStack Swift itself doesn't provide a native client for macOS. CloudMounter is an excellent choice when it comes to dealing with the data stored on this storage. The app offers a set of great features to let you easily handle cloud data management. Download and upload files to and from OpenStack cloud accounts with just a couple of clicks.
Unlimited number of OpenStack cloud accounts
CloudMounter doesn't limit you to the number of OpenStack Swift accounts that can be mounted simultaneously to your computer and accessed through Finder. Have more efficient and convenient cloud data management.
Move files among servers
CloudMounter is one spot to manage all the data stored on different cloud computing services and remote servers. The app makes it possible to transfer files not only among the same connection but also among different cloud storages and servers. Facilitate the work with online files with CloudMounter.
Tight Integration with Finder
Make the contents inside your online connections be adopted to the Mac interface and work with it like with the regular files thanks to harmonious integration into Finder.
Why CloudMounter is the number one choice
In addition to the convenience of the Finder integration, the main advantages of CloudMounter are, of course, support for major cloud computing services, thanks to which you can add an unlimited number of drives, and the security provided by the Keychain Access support, which ensures that your data is not stored in the application and is not transferred to any third parties, as well as constant updates and improvements.
Privacy with macOS Keychain
CloudMounter respects your privacy. The app neither stores nor sends your login credentials to any third parties not involved in a connection. Login details are securely kept in macOS Keychain and are only used to log in to the corresponding accounts. Logging into the cloud accounts is performed through their standard APIs.
Finder friendly
Each online resource supports seamless integration into Finder that is a great plus if you are working with multiple accounts and you do not need to use the web version for them all. Work with data on your OpenStack cloud computing local storage as well as on other online connections as if it is stored locally on your computer.
Constant development
We aim to continuously develop our product and make CloudMounter the number one choice for convenient cloud data management. Our development team is full of new ideas waiting to be implemented in future updates of the app. Support for more features, more cloud computing services, and remote servers can be checked in the coming updates.
How to connect OpenStack Swift on your computer
In order to connect OpenStack Object Storage to your Mac computer as a network drive, you need to proceed with the following simple steps. The whole process will not take a lot of time and is rather intuitive.
First of all, it is necessary to download and install CloudMounter on your computer.
Then launch the app and choose OpenStack Swift storage from the new connection window.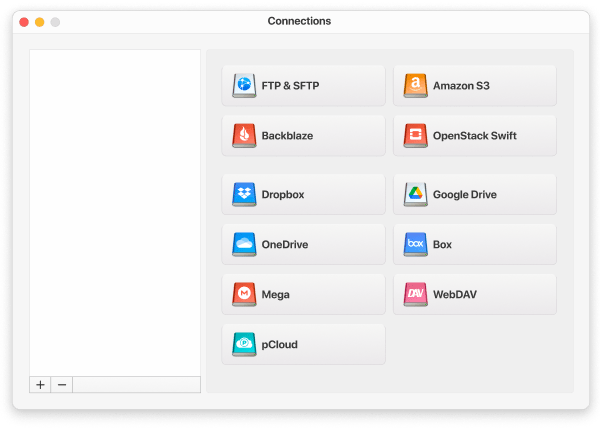 The following window will appear on the screen of your computer.
Fill in all the fields with the required info, namely authentication URL, login, password, tenant (project), and specify the container name/root directory.
Besides that, if you have several OpenStack cloud storage accounts you can effortlessly connect them all via CloudMounter and access them through Finder.
Frequently Asked Questions
All supported connections
The list of supported online connections is quite impressive. You can connect not only OpenStack cloud storage but also other popular cloud computing services and remote servers.
CloudMounter for Windows
You can now mount your multiple cloud storages as local disks on your PC too.