How to install and use Dropbox desktop app on your Mac computer
The name Dropbox is rather familiar to you and you have definitely come across it many times. So, how to use Dropbox? What is Dropbox desktop app? And why do the users need it in their everyday life? The answers to these questions will be discussed in the article below.
Dropbox is a pioneer among the services that are called "cloud storage". This type of software places files in the cloud, in other words, uploads to a remote server from one device, and gives access to files from other gadgets. So how to access Dropbox? Well, such programs require an Internet connection to upload and synchronize files on each device, a browser, or Dropbox app for desktop to work directly with the same set of files. Let's look at what cloud storage offers to the end-user in order to get to know better the capabilities of Dropbox.
Quick content
How to use Dropbox on Mac computer
In order to start using this service, you need to go to Dropbox.com and create a new account. After that, download and install a special Dropbox desktop application for your operating system then customize it for easy work.
How to install Dropbox on desktop
As for the installation, everything is simple, go to the official website, download Dropbox desktop app Mac version of another version that suits you. Run this file and after performing simple actions, the program will be installed. So, after installation, a Dropbox icon will appear in the top bar. By clicking on it, you can enter the synchronization folder, go to the site, go to the settings and the other things.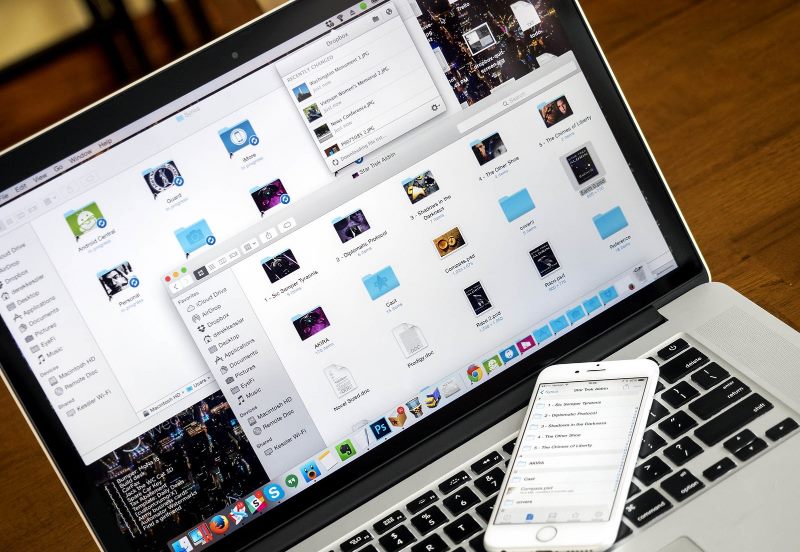 What is Dropbox desktop solution for?
The native Dropbox desktop Mac client doesn't have the graphical interface, as such. There is only a folder in which you can put data so that it moves to the cloud. Actually, this is how all the work with this cloud storage goes. In this folder, you can create any directories, for instance, for photos, videos, music, etc. If the device does not have access to the Internet, then synchronization will occur once there is a connection to the worldwide network.
In the Dropbox folder, there is a Public folder. All the files that are there can be sent over the network. In this case, cloud storage, in fact, acts as a mini-server. File-sharing can be enabled only on a website, unlike in Windows desktop Dropbox client.
Add current data to the cloud via desktop Dropbox client
Wondering what to do with already existing documents, photos, music, etc. on your Mac? In general, Dropbox can be used for all files, not only for the newly created ones. Everything old can also be transferred to Dropbox and stored there. Wondering how to do it? Everything is pretty simple. You can drag and drop any files into the Dropbox folder on desktop and they will be saved and accessible from any device. And if you don't like to drag and drop files, right-click on the file, select Copy, then go to the Dropbox folder, right-click it again and click Paste. Dropbox will take care of syncing and storing your data. While files are being uploaded to the server, you can continue to use the computer as you like. All processes occur in the background.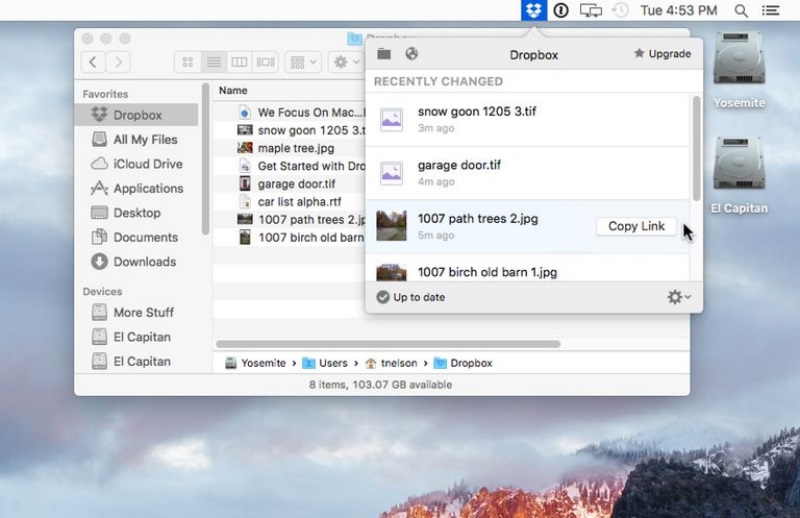 Access files stored in the cloud via Dropbox app for desktop
To use the data you store in Dropbox, simply click the Dropbox desktop application on your computer or the Dropbox icon in the system tray. When you click the icon, your Dropbox folder will open and you will be able to work with files as if they were files in a normal folder on your computer.
Pros and cons of Dropbox cloud storage
Well, everyone will see the pros and cons of using cloud storages. However, mostly it is a service for storing files. Nevertheless, we will try to list the main key points:
With the help of Dropbox, you can store important documents, personal files on the Internet and not worry about their safety, because Dropbox has already taken care of it. No one will see your files and will not be able to get them unless you allow it;


Initially, you are given 2 GB of personal dropbox free space for files. However, thanks to an interesting space expansion system, you can easily increase it up to 25 GB;


All your files that are stored on the cloud, can be available to other people; for example, you can upload a photo, text file, etc to the cloud and then give a link so that someone can download it;


After installing the special Dropbox desktop client on the computer, a certain Dropbox folder on desktop will appear and all that you will move there will automatically appear in the cloud. So, as you can see it is very convenient;


The only negative thing is that your data on Dropbox servers are unencrypted; the transfer process itself is encrypted by HTTPS, but the files on the servers are no longer encrypted. Of course, this problem can be easily solved, you can manually encrypt files using special apps, for instance, CloudMounter.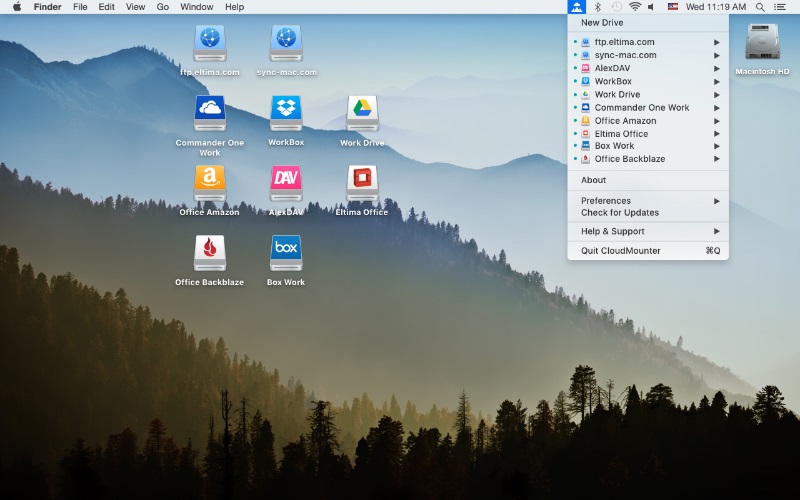 With the help of this Dropbox desktop Mac alternative, you can not only encrypt files on Dropbox and other popular cloud storages and remote servers but also easily avoid Dropbox restrictions of syncing and using the account on three devices. Another variant is also pretty simple, use the function of setting a password for the archive into which you pack the files, by the way, this feature is available in Commander One.
CloudMounter
System
32.15MB
Requirements: OS X 10.10+ ,
32.15MB
free space
Version
3.4.546
(
7th Sep, 2018
)
Release notes