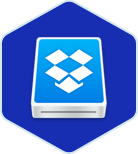 Better Security with Dropbox Encryption
Dropbox has its own security protocols that are meant to keep your data safe while it's online. However, with several safety issues experienced by Dropbox over the years, it's a good idea to add an extra layer of protection. Using CloudMounter you will enjoy the same top-level safety for your data when the files are on your Mac. A unique encryption key is used to make the files and folders unreadable to other users.
Mount as Network Disk
Different from how you'd use Dropbox originally, CloudMounter won't require you to save the content locally and in the cloud as well. Since the cloud drive is mounted as a local disk, you will save lots of disk space.
Cloud encryption
Thanks to the top-level encryption offered by CloudMounter, you will be protected even during file transfer. Your Dropbox account becomes untouchable.
Choose Who Gets Access
Thanks to the unique encryption key, only users that you choose to have the decryption key can access the content.
CloudMounter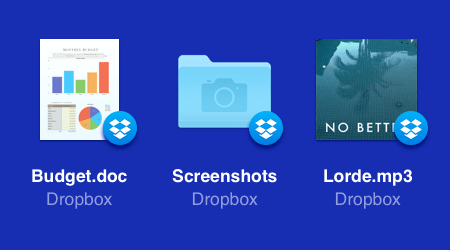 Other app/device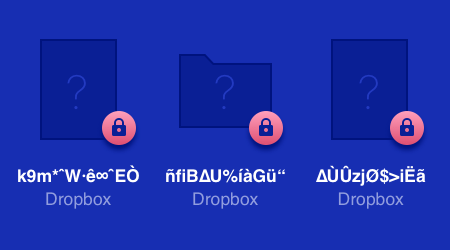 What Makes CloudMounter the Best Choice for Dropbox Encryption?
There are plenty of reasons why CloudMounter represents the best solution to encrypt your Dropbox account. Also, on top of the ones described below, our developers are constantly working to add even more benefits.
Top Privacy Standards
CloudMounter is firstly focusing on privacy. All your data is only used to get you into the account and provide top security. Also, all your login date is stored in the Mac OS Keychain so nobody can ever access it.
Find Dropbox Files through Finder
It's now easier than ever to access various online content through Finder since CloudMounter adds the cloud service as a network drive on your Mac. Also, modifying the contents of your Dropbox when mounted means instant sync.
Long List of Cloud Services
As promised, there's a lot more functionality for CloudMounter than Dropbox security. It will soon allow iCloud integration and many more benefits!
If Dropbox is Private, Why Should You Encrypt Dropbox Folders?
Indeed, Dropbox is private and comes with some security protocols of its own. However, you don't have to dig deep to discover a lot of issues with their safety systems. That's why you should always add another layer of security to your content stored on Dropbox using CloudMounter.
Also, even if Dropbox is private, there's nothing guaranteeing you protection while the files are downloaded on your Mac or during the download. CloudMounter, with its top-class AES 256-bit key encryption, ensures all your data is safely stored no matter if it's kept in the cloud or mounted on your Mac.
Furthermore, when you use CloudMounter you get much more functionality than just encryption Dropbox. You also get the ability to mount cloud services as network drives to easily navigate them through Finder. This is a great plus that helps you to rapidly identify the files you need to download or modify and get the job done faster.
Step-By-Step Guide on How to Encrypt Dropbox with CloudMounter
Having established that CloudMounter is the best app to encrypt your Dropbox file(s) and folders, it's time to check out the steps you need to follow to make sure all your content is protected. Even though the app comes with a very friendly user interface and is really easy to use, we've put together these simple steps for you:
Download the app from the official website and install it on your Mac.
Run CloudMounter and select Dropbox in the new connection dialog.
Follow the instructions to link Dropbox with CloudMounter.
Right-click on the newly-added Dropbox account and then select the "Encrypt" option (encrypted Dropbox folder is supported, however individual files can't be encrypted).
To complete the Encryption process, you need to select and verify a password. Make sure to note this password down as you won't be able to recover it. Tick the boxes if you want to add the password to the Keychain, encrypt the file names as well, or just encrypt the new files.
Click once more on "Encrypt" and the process is over.
Frequently Asked Questions
Other Cloud and Web Servers You Can Encrypt with CloudMounter
Top cloud services such as Google Drive, Amazon S3 or OneDrive can be easily encrypted with CloudMounter. Also, you can rapidly add FTP, SFTP and WebDAV servers with this software.