Mount Amazon S3 as a network drive
CloudMounter makes Amazon S3 accounts accessible from Finder thus making the work with online data easier. Connect to
Amazon S3
via CloudMounter as a Mac disk, download and upload necessary information, configure access control to data,
work with buckets
, manage all the online data as if it is stored directly on your Mac.
Bucket selection
It is optional whether to mount all your buckets or to choose just the necessary one. CloudMounter lets you connect only that what you need and have flawless access from Finder or Explorer.
Support for all regions
The list of supported AWS regions in CloudMounter is huge, including EU (Frankfurt), Asia Pacific (Seoul), US East (Ohio), Asia Pacific (Mumbai), Canada (Central), EU (London), and China (Beijing).
S3-compatible cloud storage
CloudMounter offers access to S3-compatible cloud computing services like Wasabi, Minio, Cloudian HyperStore, etc. Enjoy enhanced cloud file management both on macOS and Windows.
Secure Cloud Storages and Web Servers
Ensure better protection of your cloud computing services and encrypt files on Google Drive, Dropbox, OneDrive, Amazon S3, FTP/SFTP/WebDAV servers, etc. CloudMounter makes all of your files reliably protected.

k9m*ˆW·ê∞G
Research.xls
Dropbox

ñfiÚ7B∆U%í"
Screenshots
Amazon S3

ñfiÚ7B∆U%í"
Blur–Jets.mp3
FTP/SFTP
Encrypt data
Why use CloudMounter
Having seamless integration into macOS Finder and Windows Explorer, CloudMounter makes access to the files stored in the cloud in a matter of seconds. The list of the supported cloud computing services is rather impressive and it keeps growing. Besides that, the app safeguards your data in the best possible way.
Keychain support
CloudMounter secures your data from any authorized access. Your credentials are securely stored in the macOS keychain and are passed via encrypted channels. Connect to Amazon S3 and be sure that your files are totally protected.
Built into Finder and Explorer
CloudMounter gathers all your cloud accounts and web servers and places them into the native file manager where they work like any other local disks. Mount Amazon S3 and other cloud services to your Mac or PC and access all the data with ease directly from Finder or Explorer.
Constant updates
We never stop improving our product by implementing new features and adding support for new cloud services and protocols. We want our users to be fully satisfied with CloudMounter and to benefit from all its features.
How to mount Amazon S3 on your computer
Follow the guide below in order to access and manage files kept on Amazon S3.
To access your cloud data, download and install CloudMounter on your computer.
Run the app and select the Amazon S3 icon from the list in the new connection dialog.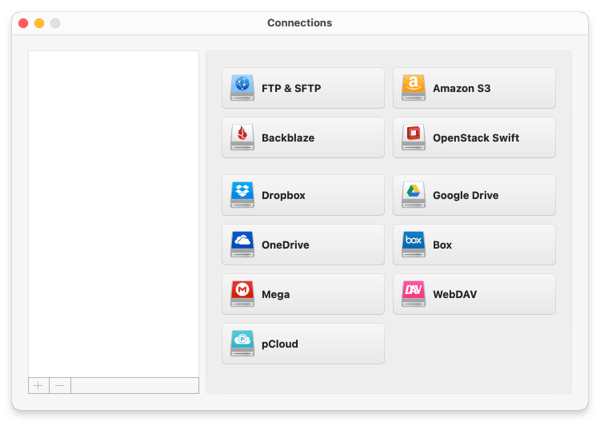 Specify the name of the connection.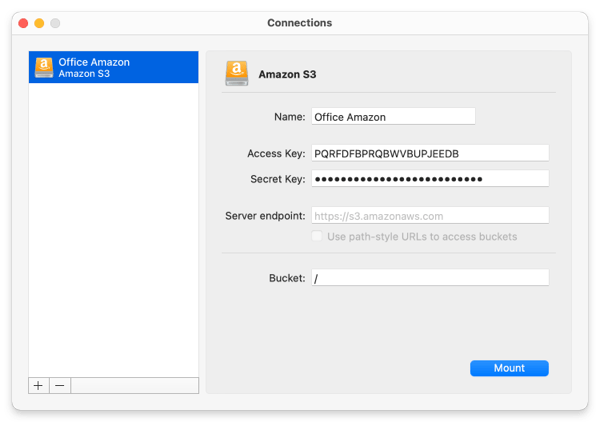 Specify both your access key and secret access key in the corresponding fields.
Enter the name of the bucket, or indicate the root directory by using the slash character.
The region will be detected automatically.
As you can see, the connection procedure is extremely simple, you need to enter your credentials, and the utility will mount the cloud in the form of an external drive. Besides that, disks are displayed in Finder, so you can work with files without additional download and synchronization.
Frequently Asked Questions
List of supported services
CloudMounter is not only a great Amazon
S3 client
but also works perfectly with other popular cloud storages.
CloudMounter Languages
Czech

German

English

French

Italian

Japanese

Korean

Russian

Spanish

Chinese