Core Feature of Dropbox Security
Dropbox uses standard SSL/TLS encryption, in addition to web browser authentication. Furthermore, it wipes every ended session so unauthorized users can't retroactively access your content after the fact. There's also the option to turn on two-step verification, along with regular internal appraisals and third-party cybersecurity analysis. This is enough to deter the average wannabe hackers. For more experienced cyber-criminals, however, there are still plenty of weak spots that can be probed.
How Secure is Dropbox Encryption?
Dropbox uses popular encryption layers like Secure Sockets Layer (SSL) and Transport Layer Security (TLS) to firewall uploaded content from the local Dropbox app on your device to Dropbox's cloud storage servers. Following some well-publicized hacks, encryption was upgraded to 128-bit plus Advanced Encryption Standard (AES) protection. When you install the service onto your device, a secure data tunnel is launched with Dropbox's servers.
So, in theory, there's no way for any unwanted intruders to penetrate the security protections to allow unauthorized access to your personal files. In theory, this should mean that no one can breach the protections in place and gain access to your data. However, the cybercriminal community is nothing if not resourceful, and there have been more than a few times when things haven't always gone to plan with Dropbox.
What Are the Biggest Issues With Dropbox Security?
While Dropbox makes big claims about how much it values users' privacy, the fact remains that one of the biggest threats to privacy with the service comes from an unlikely source: the company itself. Dropbox has the ability to de-encrypt and distribute all the content you place on the service, without needing the user's permission first.
So, if the authorities issue a request to Dropbox for a copy of your stored files, history has shown that Dropbox will comply with the request. Additionally, if a rogue employee decides to misappropriate your saved files, you'll have no recourse to secure your data from them. This has led many activists for net freedom to criticize the company for not doing enough to honor the trust their customers invest with the platform.
Further concerns center around customers' data retention: should you delete a file from your Dropbox cloud storage, the company still reserves the right to return your data due to vague legalese explanations. It's a stance that's completely open to interpretation, which won't do much to assure users that their valuable content is being ring-fenced from third-party interests. On a related note, Dropbox obviously saves your IP details and registration details, although, of course, that doesn't distinguish them from the vast majority of online businesses.
Tips to Keep Your Dropbox Files Safe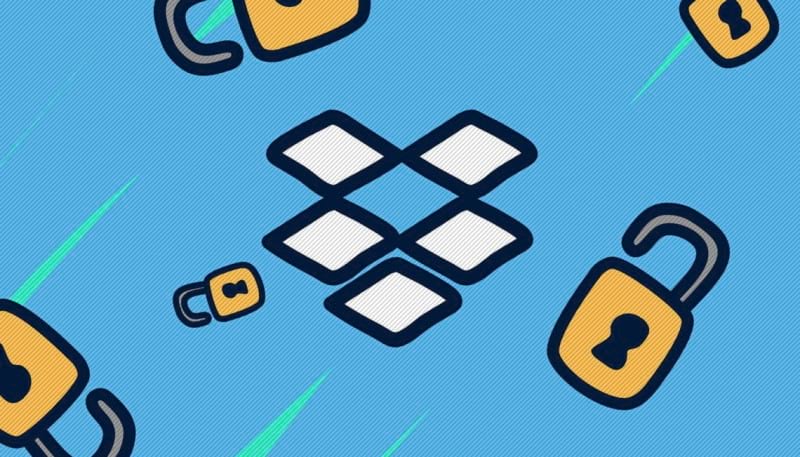 Like with any online service, there are ways to help increase security with a combination of technical know-how and a dose of common sense. Follow these simple steps to help strengthen your Dropbox account and decrease the likelihood of anyone accessing your files without authorization.
Turn on Two-Step Verification
Two-step authentication/ verification is an easy way to stop unauthorized logins in their tracks. Turn it on, and any time you or anyone else tries to access your account, a message will be sent to your phone requiring you to confirm the login. Simply activate it in the Settings menu, and you can activate the option to confirm via text message or the Dropbox app.
Delist Linked Devices
One of the main draws of Dropbox is that you can access your stored media libraries from any device connected to the internet. Consequently, you will probably have logged into your Dropbox account from different smartphones and computers. Head into the Security tab and scroll down to the Devices section. You'll be able to view every device you've logged in with, and by ticking the accompanying box you'll be able to delink a device so that the next time someone tries to log in they will have to verify the account.
Verify Web Sessions
If you think your Dropbox account has been breached, it's pretty straightforward to confirm what has happened. Again, go to the Security page and view which browsers are currently still open to view your Dropbox profile. From here you'll be able to quickly establish if anyone other than yourself has been accessing your account.
Regulate Your Linked Applications
Many people log into Dropbox through third-party services, meaning that their data gets shared with the app in question. As time goes on it's easy to lose track of which apps you've granted account permissions to (especially ones that you no longer use). At the bottom of the Security page, you'll be able to see all the apps that you've given access permission to. Much like device delisting, it's just a matter of crossing off the apps you don't use anymore to reduce the possibilities of unauthorized access.
Create Email Notifications
If you don't mind a little extra clutter in your inbox, activating email notifications helps keep you in the loop at all times. You'll get a message any time new or unusual activity occurs on your account, such as logins from new devices, browsers and IP addresses. Head to the Profile settings page to turn this feature on.
Invest in a VPN
Although Dropbox can't pin down your location with 100% accuracy, it can still determine the region you're accessing from and scrape your IP address. An easily available fix comes in the form of a virtual private network (VPN). A VPN funnels all your internet activity through a proxy server, meaning your real location can never be tracked. For anyone who values privacy, a VPN should be an essential purchase to secure your online interactions with Dropbox and any other kind of internet service you might want to use.
Dropbox Encryption Solutions: What Are The Choices?
For anyone serious about keeping their Dropbox content secure, here are some of the best services to minimize your exposure to privacy breaches and ensure that you can keep valuable data saved in the cloud with nothing to worry about. Of course, each service has its positives and negatives, but overall some clear frontrunners emerge with great features and intuitive interfaces.
The best choice – CloudMounter
The service takes an intuitive approach to optimizing Dropbox. The main draw of the CloudMounter is that it lets you mount your Dropbox cloud storage database as if it was a drive, which is how it shows up in Finder on a Mac. The software takes advantage of the latest 256-bit Advanced Encryption Standard (AES) security, which you can toggle on an ad hoc basis at any time.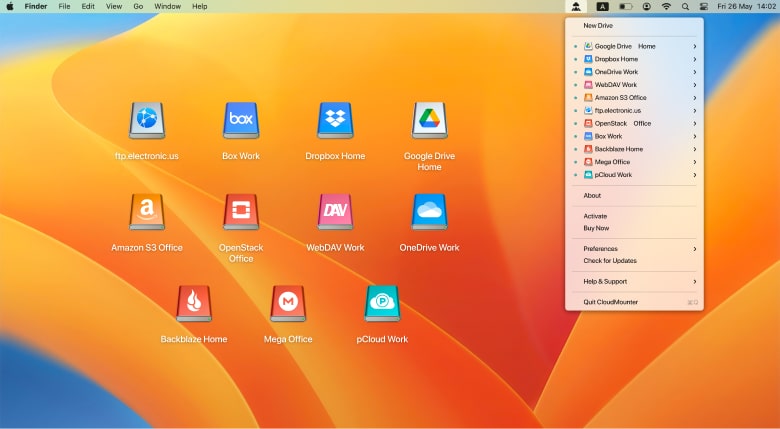 Pros:
Lets you browse and move files just like a drive in Finder.
Top-notch encryption.
Intuitive UI.
Cons:
Requires premium version to unlock the full power of the software.
Sookasa
Sookasa
is a multilateral encryption service that you can sync across a lot of different cloud storage services, including Dropbox, OneDrive, Google Drive, and more. It's an ambitious service, and the goal of achieving blanket compatibility with so many different cloud services is admirable.
Pros:
Works across most of the biggest storage services.
Easy to navigate and encrypt files.
Cons:
Compatibility issues with the latest Apple software like Mojave and Capterra.
Boxcryptor
For a free service,
Boxcryptor
has a fair amount to recommend it. You can integrate it with Dropbox across all major mobile and desktop operating systems to provide end-to-end data encryption. However, it's quite a bare-bones service, and due to Boxcryptor's "zero-knowledge" attitude to security, if you misplace or forget your login details, you won't be able to appeal to Boxcryptor to restore your access.
Pros:
Robust encryption.
Free to use.
Cons:
Minimal feature set.
Lack of customer support in the event of login problems.
Conclusion
We've seen that, despite the company's best efforts, Dropbox still has some troubling security flaws. If you want to enjoy the full use of Dropbox with peace of mind that your cloud storage is safe from prying eyes, it pays to go the extra length and utilize a quality encryption program to keep your files safe and sound. For our money, CloudMounter is the best solution currently on the market. It offers terrific encryption across the board, and, in addition, the ability to mount your storage as a drive makes Dropbox a much more convenient service for the average Mac user.
For an extra layer of protection, be sure to add a VPN to your online ecosystem to maintain the highest level of privacy. With both of these at your disposal, you'll be able to take full advantage of the cloud without having to worry about a security breach compromising your personal information.