Additionally, you should always ensure that you've got the latest version of the OneDrive app installed on your Mac device to minimize performance conflicts. To do this, click on the OneDrive icon in the menu bar, navigate to "More", then click "Preferences" and finally "About". From here, you'll be able to see which version you currently have installed and whether you need to manually update to the latest edition.
How to install OneDrive on Mac
Before you start using OneDrive for Mac, you will need to install the service on your computer. In this paragraph, we will describe the steps you need to follow to rapidly do so and enjoy the functionality of OneDrive.
Open the App Store on your Mac and search for OneDrive.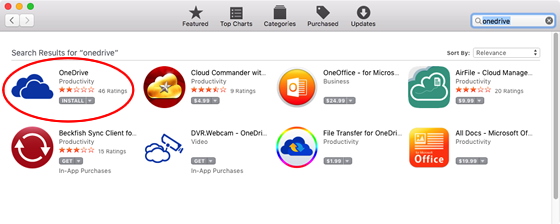 Install the app for free and open it after the download and installation process is finished.
Now the OneDrive app is added to your Mac computer.
Having added the app to your Mac, it's time to start using it to upload files and gain access to them on your devices. To do so, you're going to need to set it up first.