Using OneDrive on your Mac computer comes with multiple advantages. The personal cloud storage solution grew in popularity over the course of recent years and it's now one of the best choices for users across the globe. No matter if you're using OneDrive for Mac, on a Windows computer, or on your phone, the file-hosting service enables you to easily sync everything between devices and gain access to everything you need with ease.
As previously stated, OneDrive is a solution that works on various operating systems. It is available for macOS, iOS, Windows, Android and other mobile operating systems as well. However, for the rest of this article, we will focus on the OneDrive app for Mac and how to use these services on a macOS computer. So, keep reading to discover how to add One Drive on Mac, upload files on it, and easily manage and synchronize them across devices.
How to install OneDrive on Mac
Before you start using OneDrive for Mac, you will need to install the service on your computer. In this paragraph, we will describe the steps you need to follow to rapidly do so and enjoy the functionality of OneDrive.
Open the App Store on your Mac and search for OneDrive.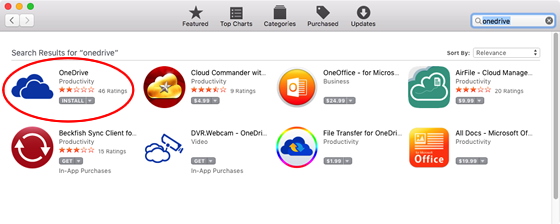 Install the app for free and open it after the download and installation process is finished.
Now the OneDrive app is added to your Mac computer.
Having added the app to your Mac, it's time to start using it to upload files and gain access to them on your devices. To do so, you're going to need to set it up first.