What Makes the Best MultCloud Alternative?
MultCloud is one of the most popular cloud-to-cloud services because it delivers the features users need to optimize how they use their cloud storage. Any cloud storage manager should provide the same responsive functionality, intuitive interface, and reliable performance. Here are some of the features that the best MultCloud alternatives have.
Secure
Your cloud storage is meaningless if it doesn't keep your data secure. A cloud storage manager should provide encryption during downloading, uploading, and file transfers. The best MultCloud alternatives offer varying levels of file encryption to protect your content while transferring files between clouds. Some provide additional encryption for file and directory names to hide your cloud storage structure.
Advanced File Management
MultCloud allows users to move their data between clouds without the hassle of downloading and reuploading. When selecting the best free alternative to Multcloud for your needs, consider the advanced functionality you might need.
Some of the common file management features include supporting your existing cloud service accounts and providing file management across multiple clouds. Some apps include features for unlimited background syncing and scheduled transfers for data backup without user input.
Diverse Platform Support
Few people operate across work, school, and personal devices using only one platform. The best MultCloud alternatives work on Mac, M1 Mac, and Windows operating systems. Some of the programs highlighted here also work with Linux, OpenBSD, etc. The top alternative cloud-to-cloud services also support file transfers with desktop and mobile versions for unparalleled functionality.
About MultCloud Cloud Storage Migration
MultCloud does precisely what its name describes, offering support for all the major cloud storage services, including Google Drive and Google Photos, Dropbox, Amazon S3, Box, Flickr, and more. It masterfully handles bulk transfers and provides reliable data syncing to backup as you work.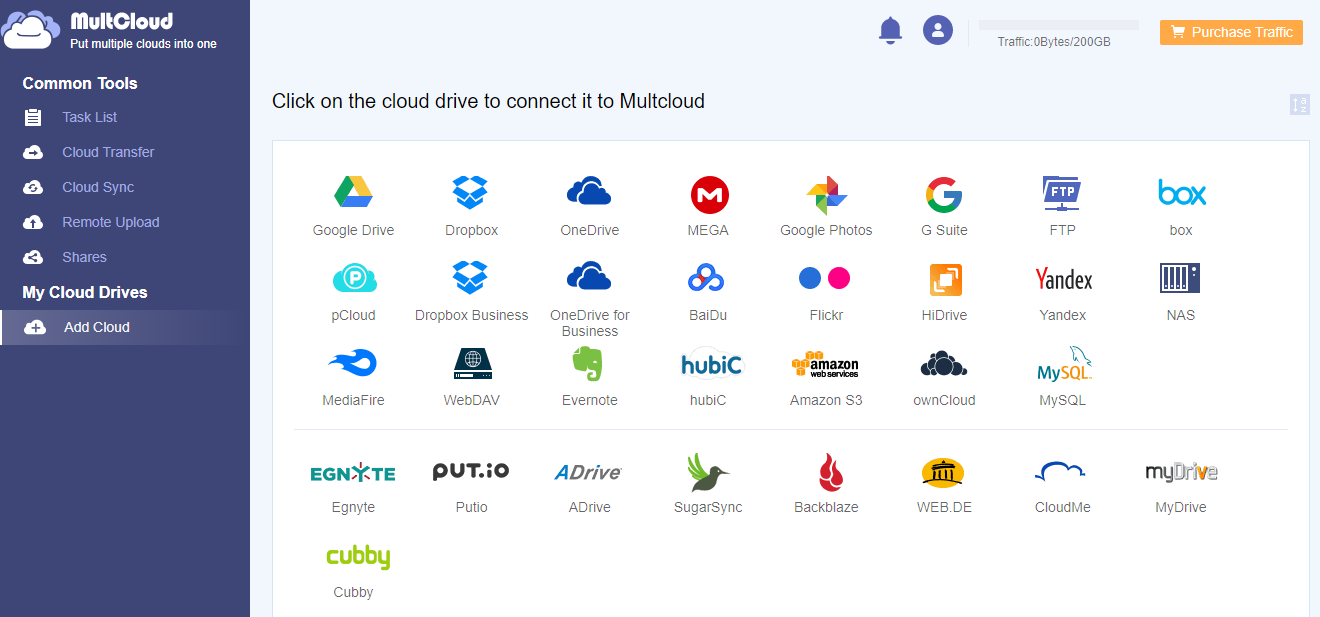 Benefits
Support for all the major cloud storage providers
Three tiers of storage to meet every need and budget
Scheduled syncing for regular data backups
Custom extension filtering and duplicate file handling
Review
MultCloud is ideal if you're moving to a new cloud storage provider and need to transfer bulk data. It provides all the standard functionality users have come to expect. MultCloud's nuanced features elevate the program beyond facilitating cloud storage backups and cloud-to-cloud transfers to recalibrate user workflow for advanced data management.
The only downside of MultCloud is it doesn't offer an app version for either desktop or mobile, requiring users to access it through an internet browser.
Free Version
The free version of MultCloud provides 30GB of data traffic per month, which may be enough for casual users. There's no throttling of the functionality with the free version, and users can upgrade to the monthly or yearly plan for unlimited data traffic if they need it.